Scotland's newest snorkel trail reveals Lochaber's hidden depths
A new snorkel trail exploring Lochaber's beautiful beaches and rocky shores has been created by the Scottish Wildlife Trust and West Highland College UHI. The self-led Lochaber Snorkel Trail features six sites on the region's coast and identifies areas that can be explored by both beginner and more advanced snorkellers.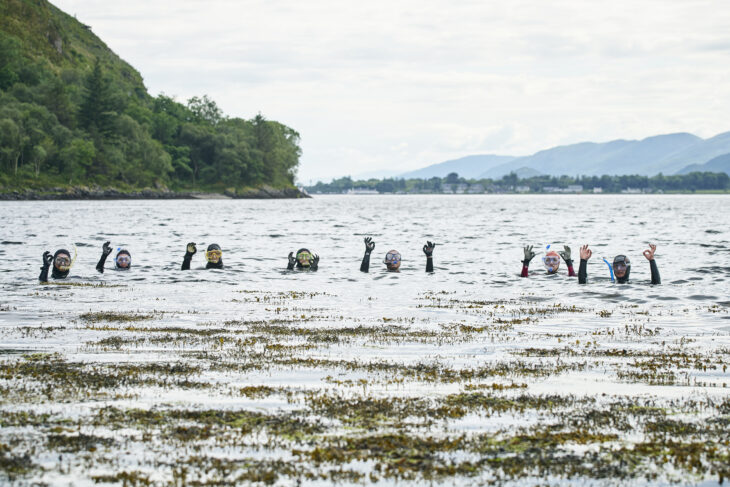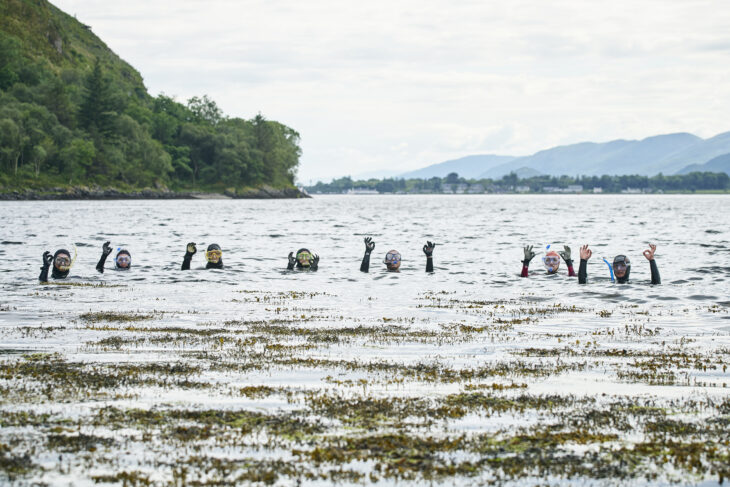 Exploring these areas could lead to close-up encounters with colourful wildlife including starfish, jellyfish, anemones and crabs, as well as seals and a range of fish.
The trail began as a final year project for a Marine and Coastal Tourism student based at West Highland College's School of Adventure Studies. It was launched on the shore of Loch Linnhe by students from the college and Kate Forbes, MSP for Skye, Lochaber and Badenoch.
Dr Sam Collin, Living Seas Manager, Scottish Wildlife Trust said: "Lochaber's dramatic landscapes, beautiful beaches and internationally recognised biodiversity make it one of the finest locations for marine and coastal tourism in Scotland.
"The Lochaber Snorkel Trail is a fantastic addition to the network of trails being developed as part of our Living Seas project and we are delighted to have worked closely with West Highland College UHI to create it. We want to help people realise the importance of protecting Scotland's seas – helping local people and visitors to safely discover marine wildlife through snorkelling is a fantastic way to achieve that."
Kate Forbes, MSP for Skye, Lochaber and Badenoch, said: "It was fantastic to have the chance to experience first-hand the amazing coastal environment we have in Lochaber. This initiative goes to show that you don't have to go to the Caribbean to see crystal clear waters and colourful marine life.
"I'm pleased to see West Highland College UHI and the Scottish Wildlife Trust collaborating on this new snorkel trail, a welcome initiative during Scotland's Year of Coasts and Waters. The work helps to highlight Lochaber's stunning coast and the amazing life beneath the waves. I'm sure the trail will enhance adventure tourism in Lochaber, and raise awareness of the importance of looking after our local marine life."
Annabel Lawrence, Lecturer in Marine and Coastal Tourism at West Highland College UHI said: "We're delighted to have worked with the Scottish Wildlife Trust to deliver this new trail, which is an opportunity for residents and visitors to Lochaber to experience our coastal and inshore waters and foster a connection to this environment. We hope that it will lead to a greater understanding, appreciation and protection of these fragile, threatened habitats and iconic species."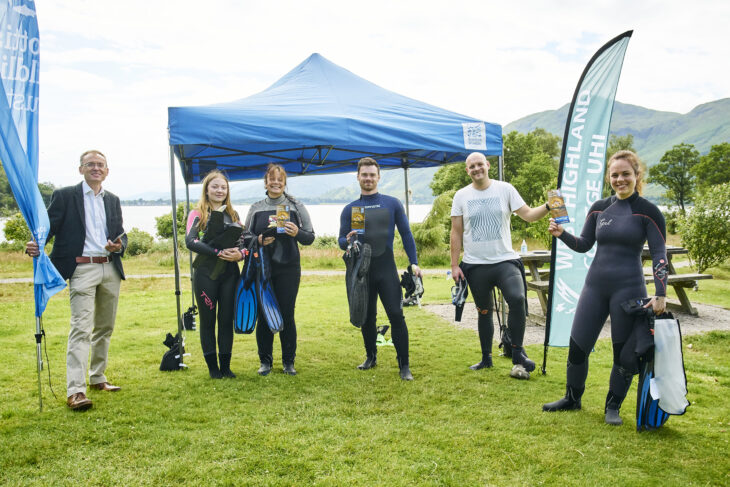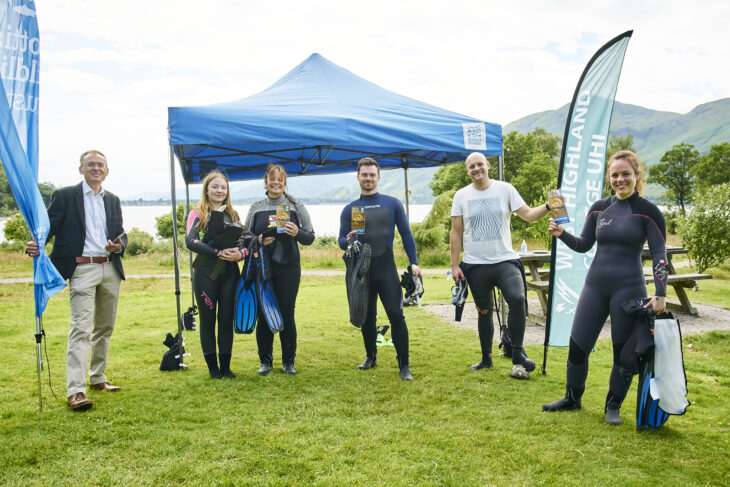 "The trail began as a final year project for one of our Marine and Coastal Tourism students. The project, developed with support from the Scottish Wildlife Trust and the Centre for Tourism Research (CRTR) at West Highland College, has resulted in this new trail around Lochaber, the training and qualification of 12 UHI students as British Sub Aqua Club (BSAC) Snorkel Instructors and also Dolphin Snorkeller training for primary school children in the area. The training and elements of the leaflet production were supported through the CAPITEN project, co-financed by the Atlantic Area INTERREG programme and Highlands and Islands Enterprise.
"Our Marine and Coastal Tourism degree delivered by the School of Adventure Studies was developed in response to Scotland's initial marine tourism strategy 'Awakening the Giant' which presented the opportunity to create a world class marine tourism sector in Scotland, the relationship between UHI and the marine tourism sector has now developed into a partnership with the 2020 'Giant Strides' marine tourism strategy ensuring that 'Marine tourism is sustainable and meets changing consumer, workforce, community and environmental needs and expectations, whilst growing the industry's overall economic contribution to over £500 million by 2025' (Giant Strides, 2020:3).
"The degree is in its sixth year of delivery and has had many positive outcomes. Graduates from the course are involved in sea kayaking, sailing, leisure cruises, business start-ups and community marine projects."
Click here to find out more about the Scottish Wildlife Trust snorkel trails.
There's nothing quite like a Snorkeling holiday in the Maldives!
A Guest Blog by Ruth Franklin of Secret Paradise Maldives
1200 islands of 26 different atolls make up the island paradise of the Maldives. Once prehistoric underwater volcanoes, the coral reefs and ecosystems that surround these picture perfect islands offer some of the world's very best snorkeling locations. There's no better destination than the pristine tropical waters of the Maldives for first time snorkelers or veteran underwater lovers. With an average of 200+ sunny days per year, the Maldives really is second to none when it comes to choosing an idyllic snorkeling escape.
What is Snorkeling in the Maldives Like?
You've probably seen the picture perfect images of the Maldives floating around the internet, popping up on your Instagram feed or plastered across what it seems like, pages of every other travel magazine. Thoughts of 'there's no way that ocean water can be real' or something along the lines of 'that's definitely photo shopped' may have crossed your mind more than once. Take our word for it from us here at Secret Paradise, as we can assure you that yes – the water is really the colour depicted by the magazines. In fact, the island waters here reflect a spectrum of blue tones that seem to change façade with every spec of light. This island paradise is just waiting for you to dive beneath the surface to discover its abundance of incredible reef life and the spectacular coloured corals.
If you're privileged enough to delved into the underwater world of the Maldives, you can expect nothing but excellent clarity and visibility, combined with blissful year round ocean temperatures of 26 – 29 degrees Celsius. You may also be thinking that a snorkeling holiday in the Maldives is probably out of your budget … Again, let us reassure you that there has never been a more affordable time to travel to the Maldives. A snorkeling vacation is very reasonable and can begin from as little as USD$50 per night … let us show you how.
What Are the Options for Maldives Snorkeling Holidays?
Here at Secret Paradise, we offer quality and value for money snorkeling day trips and bespoke Multi-day Island hopping itineraries. On our tours, expect to explore the uncharted local islands of the Maldives, an alternative to an expensive resort style vacation.
Staying on a local island in a guesthouse allows for exploration of some of the Maldives' very best snorkeling sites and marine life, whilst experiencing the local tradition and culture of the Maldives. Think palm trees, white sandy beaches, sun bathing and of course snorkeling, all combined with wandering locally inhabited islands, tasting Maldivian foods and seeing local traditions first hand. Enjoy being transferred from your local island via a traditional wooden dhoani boat, to stunning nearby snorkeling sites – the very same sites that resort guests snorkel at, all for a fraction of the cost! Our affordable snorkeling holidays and day trips will leave you with long lasting Maldives memories.
Is The Maldives Best For First Time or Experienced Snorkelers?
The answer to this question is both. The Maldives is spread across a thousand small islands scattered throughout the Indian Ocean, meaning it offers vast ocean environments, perfect for both beginner and experienced snorkelers and everyone in between.
The islands here in the Maldives consist of both shallow and deep-water lagoons. Beginners can simply choose to snorkel the reefs adjacent to the shoreline, in the safety of still water. Intermediate snorkelers can explore reefs a little further off shore whilst advanced snorkelers who are more daring have opportunities to try the local 'drift-snorkeling' method, using the aide of the ocean currents to explore the underwater terrain. As the ocean currents here in the Maldives are extremely tidal, our local guides will accompany you to ensure that you experience a safe yet 'bucket-list' type of underwater snorkeling experience.
What Is The Best Time of Year For Snorkeling In The Maldives?
The snorkeling season of the Maldives runs yearlong. As the Maldives is located near the equator, it is susceptible to two monsoon seasons, better known as the wet and dry seasons. From May to November (the wet season), the abundance of reef life is more varied and the visibility levels are better on the western side of each island. December to April is generally known as the 'dry' period, where the eastern side of each atoll is best for snorkeling.
Buy or Rent Snorkeling Equipment?
When it comes to packing for your Maldives snorkeling vacation, deciding upon whether to buy or rent your snorkeling gear is certainly a great question and one that needs to be given substantial consideration, as everyone's snorkeling needs are different.
Firstly, decide how often you think you may snorkel on your Maldives trip. Do you think that number is worthy of purchasing your very own snorkeling gear? Let us help you make a wise travel decision.
Let's face it, there's nothing quite like owning your own snorkeling equipment – being assured that your own mask, fins and snorkel fit your face and body perfectly, not to mention they haven't been worn by the many tourists before you. It's a great little luxury if you believe you will be snorkeling frequently throughout your Maldives stay. It will also save you the hassle of searching for the snorkeling equipment that is right for you.
However, remember transporting and carrying your own snorkeling gear can often be bulky and heavy, and the last thing you want is for your equipment to be damaged in transit. Renting your snorkeling equipment is essentially easier, as your gear you won't need to be transported from place to place. Fins especially take up a substantial amount of room in your luggage.
Another alternative is to purchase your own face mask and snorkel before your trip and hire your fins whilst on holidays. A mask and snorkel combination is small and lightweight – it takes up minimal space in your luggage. This way you will be assured that your mask will fit you comfortably, it won't leak and it is sanitary, plus you won't have to awkwardly lug fins around in your luggage.
Our Secret Paradise Packing Tip:
Cushion your mask between clothes to ensure the lens won't be damaged in transit. As fins are durable, pack them on the outer edge of your luggage to prevent your other belongings from being damaged.
---
Discover more of The Maldives with www.secretparadise.mv
Turtles of the Riviera Maya & Cozumel
A blog by Pro Dive International
Plenty of empty shells of recently hatched turtle eggs were spotted by our divers at Sabalos. They had been washed off shore onto the reef after the baby turtles had dug out of their nest at night and swam off into the sea.
The turtle nesting season on the Riviera Maya and in Cozumel happens between May and October, which means that you may be lucky to see some nests or even hatchlings during your stay with us.
Six out of the seven sea turtle species worldwide visit Mexico every year. We are lucky enough to get to see Green Turtles and Loggerhead Turtles regularly during our dives, as they are in search of food and a good clean.
The reefs and ecosystems here provide a great number of tasty snacks for a turtle, for example seagrass, sponges, crustaceans and many more. And while the turtles pass through the reef, they receive a top-notch cleaning service from many of the local fishes who feed on their parasites and algae growth.
6 Turtle Fun Facts
Green turtles are so named because of their green colored fat caused by their rich diet of seagrass.
Green Turtles are the largest hard-shell turtles in the world. The largest known green turtle weighed 395 kg/ 871 lbs, with a shell that measured more than 152 cm/ 5 ft.
Loggerhead Turtles are so named for their massive broad muscular heads.
Adult males are normally easy to distinguish from females because of their long tails visible extending past their shell.
Female turtles normally return to the exact same location where they were born to lay their eggs.
The sex of a baby turtle is determined by the temperature at which the egg is kept.
Turtles are regular visitors to many of our dive sites, but they are most commonly found at Tortuga – this dive site is even named turtle in Spanish! It's located just off shore from our dive center at the Occidental Xcaret and easily accessible by boat from any of our Playa Del Carmen locations.
Moreover, for those of you who are not divers, we are lucky enough to have some extensive seagrass beds where green turtles love to hang out and eat, which is an easy snorkel off shore during one of our tours with a guide who is licensed to enter those protected areas.
Turtle Locations
Besides observing them underwater, you may be lucky to find some turtle nests in front of your resort on the Riviera Maya or in Cozumel. Hotel employees usually rope them off to ensure their protection.
Turtle conservation projects are a great alternative to learn more about their behaviors, importance for the marine environment, how you can help protect them, and to observe nests or turtles first hand:
Turtle Protection
Every sea turtle species on earth nests on Mexico's beaches (save one that is only found in Australia). Consequently, Mexico is known as the sea turtle capital of the world and its turtle protection laws are so important on a global scale.
Current Mexican law classifies all sea turtle species as endangered.
Regulations
Turtles can't be killed for their meat, skin, shell or eggs.
Native vegetation can't be removed in nesting habitats, to stop erosion.
New regulations call for moving, changing or eliminating any light sources that illuminate a nesting beach, as baby turtles can become disoriented from finding their way to the ocean.
Vehicles can have a maximum weight of 300 kg on nesting beaches and only be used for patrolling and management of the nesting site.
Recently outlawed were turtle release events, as many places kept the hatchlings in confinement for several days until a sufficient number of participants had signed up for this activity. Upon release, they were too weak to handle the surf and avoid predators.
All of these and many more regulations help protect beaches, nests, female sea turtles, their eggs and hatchlings to make it a safer place for them.
How to start your Turtle Adventure
Let's discover some turtles together during our dives! If you are not a diver, why not sign up for a PADI course; or join our Mexican Snorkeling Adventure at 15% OFF starting from Playa del Carmen or Tulum, if booked online until 16/09 & redeemed until Dec 22, with reference to this blog!
Contact: