Scotland's newest snorkel trail reveals Lochaber's hidden depths
A new snorkel trail exploring Lochaber's beautiful beaches and rocky shores has been created by the Scottish Wildlife Trust and West Highland College UHI. The self-led Lochaber Snorkel Trail features six sites on the region's coast and identifies areas that can be explored by both beginner and more advanced snorkellers.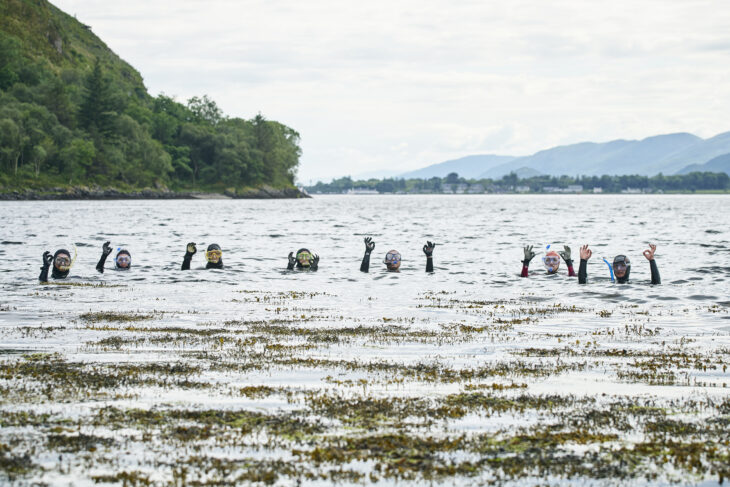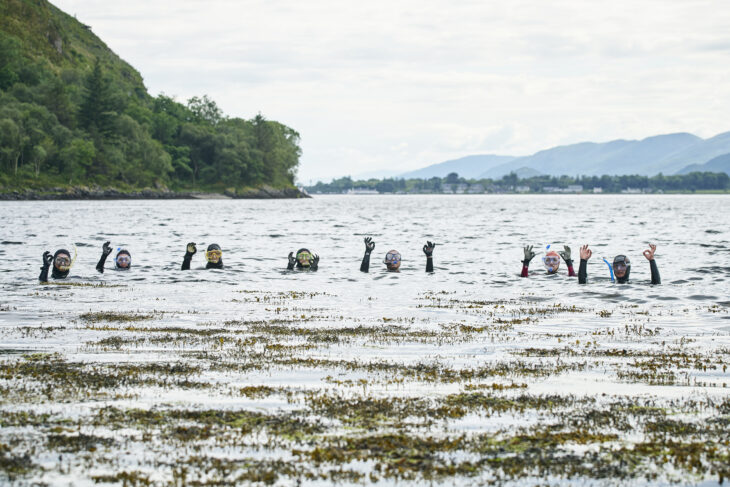 Exploring these areas could lead to close-up encounters with colourful wildlife including starfish, jellyfish, anemones and crabs, as well as seals and a range of fish.
The trail began as a final year project for a Marine and Coastal Tourism student based at West Highland College's School of Adventure Studies. It was launched on the shore of Loch Linnhe by students from the college and Kate Forbes, MSP for Skye, Lochaber and Badenoch.
Dr Sam Collin, Living Seas Manager, Scottish Wildlife Trust said: "Lochaber's dramatic landscapes, beautiful beaches and internationally recognised biodiversity make it one of the finest locations for marine and coastal tourism in Scotland.
"The Lochaber Snorkel Trail is a fantastic addition to the network of trails being developed as part of our Living Seas project and we are delighted to have worked closely with West Highland College UHI to create it. We want to help people realise the importance of protecting Scotland's seas – helping local people and visitors to safely discover marine wildlife through snorkelling is a fantastic way to achieve that."
Kate Forbes, MSP for Skye, Lochaber and Badenoch, said: "It was fantastic to have the chance to experience first-hand the amazing coastal environment we have in Lochaber. This initiative goes to show that you don't have to go to the Caribbean to see crystal clear waters and colourful marine life.
"I'm pleased to see West Highland College UHI and the Scottish Wildlife Trust collaborating on this new snorkel trail, a welcome initiative during Scotland's Year of Coasts and Waters. The work helps to highlight Lochaber's stunning coast and the amazing life beneath the waves. I'm sure the trail will enhance adventure tourism in Lochaber, and raise awareness of the importance of looking after our local marine life."
Annabel Lawrence, Lecturer in Marine and Coastal Tourism at West Highland College UHI said: "We're delighted to have worked with the Scottish Wildlife Trust to deliver this new trail, which is an opportunity for residents and visitors to Lochaber to experience our coastal and inshore waters and foster a connection to this environment. We hope that it will lead to a greater understanding, appreciation and protection of these fragile, threatened habitats and iconic species."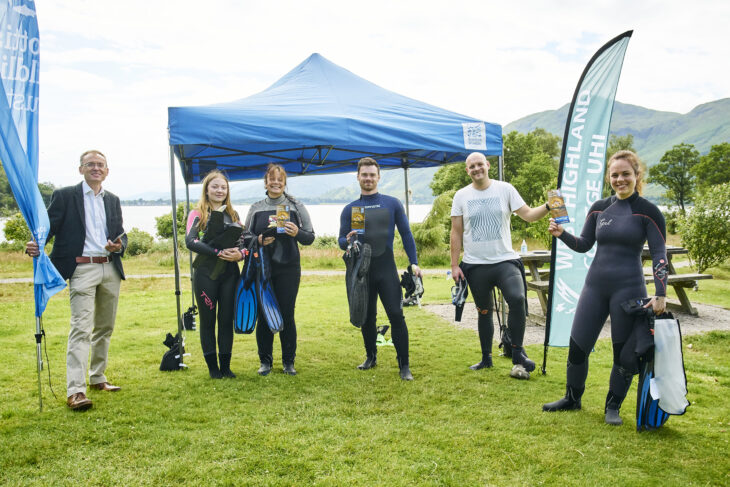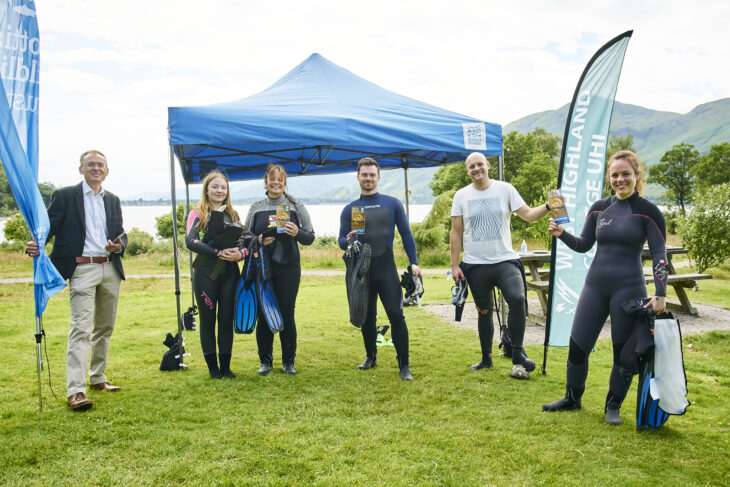 "The trail began as a final year project for one of our Marine and Coastal Tourism students. The project, developed with support from the Scottish Wildlife Trust and the Centre for Tourism Research (CRTR) at West Highland College, has resulted in this new trail around Lochaber, the training and qualification of 12 UHI students as British Sub Aqua Club (BSAC) Snorkel Instructors and also Dolphin Snorkeller training for primary school children in the area. The training and elements of the leaflet production were supported through the CAPITEN project, co-financed by the Atlantic Area INTERREG programme and Highlands and Islands Enterprise.
"Our Marine and Coastal Tourism degree delivered by the School of Adventure Studies was developed in response to Scotland's initial marine tourism strategy 'Awakening the Giant' which presented the opportunity to create a world class marine tourism sector in Scotland, the relationship between UHI and the marine tourism sector has now developed into a partnership with the 2020 'Giant Strides' marine tourism strategy ensuring that 'Marine tourism is sustainable and meets changing consumer, workforce, community and environmental needs and expectations, whilst growing the industry's overall economic contribution to over £500 million by 2025' (Giant Strides, 2020:3).
"The degree is in its sixth year of delivery and has had many positive outcomes. Graduates from the course are involved in sea kayaking, sailing, leisure cruises, business start-ups and community marine projects."
Click here to find out more about the Scottish Wildlife Trust snorkel trails.
7 best places to go snorkeling in Brazil
With more than 7,000 km of coastline dotted with bustling cities, white-sand beaches and coral reefs, Brazil offers a unique mix of culture, history and world-class snorkeling. This fascinating country is home to the largest coral reef system in the South Atlantic Ocean and has numerous snorkeling destinations. Between them, they include wreck diving meccas, vibrant coral reefs, marine parks, and a UNESCO World Heritage Center. But where are the best places to go snorkeling in this vast country? Let's find out in our round-up of the best snorkeling in Brazil.
1) Recife
Recife is the main city in the state of Pernambuco and takes its name from the many reefs, or 'recifes', that surround its shoreline. It is known as the shipwreck capital of Brazil and boasts dozens of shipwrecks, from historic 19th Century ships through to modern vessels. All of which are thriving artificial reefs surrounded by huge schools of fish.
Whilst you won't be able to access many of the wrecks as a snorkeler, Recife's numerous reefs offer easy snorkeling in warm, clear waters all year. There are numerous reef fish to observe among the patch reefs, plus sharks, sea turtles and rays.
 2) Fernando de Noronha
Take a trip 400 km offshore from Recife and explore a UNESCO World Heritage Centre, the Fernando de Noronha archipelago. This volcanic archipelago offers the best snorkeling in Brazil and has countless undisturbed snorkeling spots.
Famed for its clear waters and spectacular topography, Fernando de Noronha is made up of 21 islands that are home to seabirds, reptiles and abundant marine life – including spinner dolphins. It is a sanctuary for wildlife and a National Marine Park that offers exceptional scuba diving, surfing and snorkeling.
Fernando's waters are extremely important as a breeding and feeding ground for tuna, sharks, sea turtles and marine mammals. Go snorkeling there and you have a good chance of encountering the resident dolphins and schools of pelagic fish.
There are caves, swim-throughs, tunnels and caverns dotted around the islands, with beautiful rock formations that host an array of reef fish. With lagoons and tidal pools as well, Fernando de Noronha is a must for any ocean fan.
3) Porto de Galinhas
Porto de Galinhas is a small coastal city an hour's drive down the coast from Recife and has a long golden beach with reefs sitting just offshore. Simply step off the beach into the warm, azure waters and you'll find lots of colorful fish and reef life.
The waters are shallow, clear and calm, making it perfect for snorkelers. There are also rock formations that have created snorkeling pools, with hot water around 28°C. This is a great place for novices to learn how to snorkel or try scuba diving for the first time.
4) Ilha Grande
The oceanic islands near Rio de Janeiro are a must for snorkelers. These islands attract diverse marine life and are the perfect place to spot and photograph numerous fish species, plus moray eels, rays, sea turtles, octopi, and visiting dolphins.
Ilha Grande is one of the most famous islands and has clear waters, forest trails, and excellent snorkeling. You can cruise around the island, dipping in and out of the water and exploring the soft, white-sand beaches all day long.
5) Regiao dos Lagos
Regiao dos Lagos in the state of Rio de Janeiro is a popular region that has some of the most famous beaches in Brazil. This area receives nutrient-rich, cold waters from the South Atlantic Ocean, attracting an array of different marine species. There are lobsters, sea turtles, friendly dolphins, pelagic fish, and rays in these rich waters.
Costa Azul is one of the most famous places there and is thought to have some of the best diving in Brazil, thanks to its many dive sites, plus dive centers that offer kit hire for all your snorkeling needs. There are numerous snorkeling spots and softy, sandy beaches with clear, shallow waters.
6) Abrolhos Archipelago
The Abrolhos archipelago is a group of five uninhabited islands off Brazil's southern Bahia coast and is home to the Abrolhos Marine National Park. This unique park offers some of the best diving and snorkeling in the world and is famous for its rare coral formations.
The crystal-clear waters of the Abrolhos archipelago are home to the most extensive coral reefs in all of the South Atlantic Ocean and host around 19 coral species, including brain coral. These are some of the most interesting reefs in South America.
Many of these reefs are called 'chapeiroes' because they grow upwards in columns that resemble huge mushrooms. These unusual reefs host around 160 fish species and numerous sea turtles. The marine park is also known for its visiting humpback whales. Visit from July to November for the best chance of spotting these ocean giants.
7) Sao Paolo
Sao Paolo is Brazil's largest city and is a dazzling cultural, architectural, and fashion center with iconic buildings and a great selection of museums. It is also home to the Laje de Santos Marine Park, a famous migratory route for manta rays.
Sao Paolo's coast is dotted with multiple dive and snorkeling sites in the north and south, which can be reached with a short boat ride. The Laje de Santos Marine Park is the most popular place for divers and snorkelers in the area. As well as numerous visiting mantas and sea turtles, this marine park hosts pelagic fish, rocky-bottom fish, crustaceans and South Atlantic species.
For the best chance of encountering manta rays at Sao Paola, visit from March to September.
---
Kathryn Curzon, a shark conservationist and dive travel writer for SSI (Scuba Schools International), wrote this article.
Top 12 Snorkeling Destinations in Oceania – Part II
Oceania has a fascinating mixture of well-known romantic destinations and wild, remote islands that few people ever get to visit. It is a region of contrasts with enough snorkeling destinations and cultural highlights to satisfy even the most adventurous snorkelers. In part II of 12 great places to go snorkeling in Oceania, we take a deep dive into some of this region's most famous and little-known islands. Get inspired for your next snorkeling trip here.
French Polynesia
French Polynesia has some of the world's most famous destinations in Oceania, including Tahiti, Moorea and Bora Bora. Between them, they offer snorkeling among colorful reefs in warm, calm lagoons and the chance to meet a variety of marine life.
Go snorkeling with friendly stingrays and blacktip reef sharks at Moorea Lagoon or swim with humpback whales a little further offshore. Snorkeling and diving in Bora Bora are high on the wish list for many people and don't disappoint, with pretty coral gardens and dozens of snorkeling spots in warm, azure waters.
At the nearby Tuamotu Archipelago, you can experience the thrill of drift snorkeling through Tiputa Pass and meet the pelagic fish, dolphins and sharks this pass is famous for. At Tikehau, a small atoll near Rangiroa, you can swim with graceful mantas at a shallow cleaning station.
The Solomon Islands
The Solomon Islands are a haven for more than 1000 reef fish species and numerous prized critters, plus dolphins, sharks, rays and six species of sea turtle. Hosting hundreds of wrecks and remote hard coral reefs, there is something for every snorkeler there.
Most snorkeling is conducted at resort house reefs of by boat tours to nearby islands and reefs. At Mary Island, you can go open-ocean snorkeling among dramatic coral-covered landscapes, home to sharks and large schools of fish.
The awe-inspiring Marovo Lagoon is the largest saltwater lagoon in the world and is made up of a chain of coral reefs and islands that are absolutely stunning. This popular tourist spot hosts some of the best coral gardens in the South Pacific, with deep and shallow snorkeling sites and remarkably clear waters.
To experience snorkeling over wrecks, make sure you visit the Florida Islands. The Solomon Islands have hundreds of WWII ships and aircraft, with many shallow ones that snorkelers can explore.
The Cook Islands
When it comes to warm welcomes, it's hard to beat the Cook Islands. From the moment you arrive, you will be drawn into one of the friendliest nations in the world and won't want to leave.
This wonderful country, with its warm, calm waters and excellent facilities, is the perfect place to teach your kids how to snorkel and maybe even get your Open Water Diver certification. Rarotonga is the main destination for tourism and is a charming island with fresh markets, cafes, restaurants, and resorts tucked away among the palms.
There are plenty of snorkeling spots off the beaches, with coral bommies, diverse tropical fish, giant clams, and occasional sea turtles. Muri Lagoon is one of the most popular places for snorkeling, as is the Fruits of Rarotonga Marine Reserve. This well-known reserve is absolutely teeming with fish.
New Caledonia
New Caledonia is a wish-list destination known for its spectacular scuba diving, crystal-clear waters and abundant marine life. Unlike some remote destinations in Oceania, New Caledonia has modern infrastructure that makes it easy to explore at your pace – by car or island hopping with regular domestic flights.
There are several snorkeling trails at New Caledonia, built to allow you to meet the diverse array of marine life that calls the New Caledonia Lagoon home. This UNESCO World Heritage Site contains coral-encrusted walls, channels, and easy snorkeling trails busy with marine life. Simply follow the underwater trails and enjoy!
With dozens of islands to choose from, there are numerous other snorkeling options around New Caledonia. The extensive marine reserves ensure the waters are teeming with life, including mantas, dugongs, dolphins, stingrays, sea turtles, and an array of corals. With few people in the water and great conditions year-round, it is one of the best places to go snorkeling in Oceania.
Vanuatu
Nearby Vanuatu is the perfect place to reconnect with nature, offering untouched rainforests, natural swimming holes, and excellent snorkeling.
Pristine reefs abound in Vanuatu, with many accessible simply by walking off the beach. The amount of marine life in Vanuatu is impressive and similar to New Caledonia, though the landscapes are quite different.
Tanna Island has breath-taking snorkeling among deep blue rock pools and coral gardens. At Lemnap, you can snorkel in the sun-dappled waters of a huge grotto. There is excellent snorkeling with sea turtles at Tranquility Island and you can go snorkeling in jaw-dropping inland blue holes at various islands.
Million Dollar Point is one of the most unique snorkeling destinations and hosts an array of machinery and equipment dumped by the US after World War II. Boasting wrecks in 15 to 25 meters of water off the beach, you can simply grab you snorkeling kit and explore.
Papua New Guinea
Papua New Guinea is one of the most culturally diverse countries in the world, with more than 850 known languages and hundreds of different tribes. It is unlike anywhere else in Oceania.
Along with the Solomon Islands, Papua New Guinea has some of the healthiest coral reefs in the world, including at Kimbe Bay. This special bay was once ranked as the most beautiful reef by National Geographic and is an exceptional place to go snorkeling, with huge corals and large reef fish.
Milne Bay has great conditions for snorkelers, with gorgeous beaches and sands full of bizarre-looking critters and plenty of fish life. New Ireland Province boasts snorkeling among war wrecks, big fish, thriving reefs and sharks, whilst East New Britain has a spectacular drop-off at Tavui Point.
Some of the best snorkeling sites are at Tufi. These fjords are covered in lush rainforest and have crystal-clear waters. There are beautiful corals, countless fish and sea turtles, plus Birds of Paradise in the surrounding forests.
---
Kathryn Curzon, a shark conservationist and dive travel writer for SSI (Scuba Schools International), wrote this article.