Scotland's newest snorkel trail reveals Lochaber's hidden depths
A new snorkel trail exploring Lochaber's beautiful beaches and rocky shores has been created by the Scottish Wildlife Trust and West Highland College UHI. The self-led Lochaber Snorkel Trail features six sites on the region's coast and identifies areas that can be explored by both beginner and more advanced snorkellers.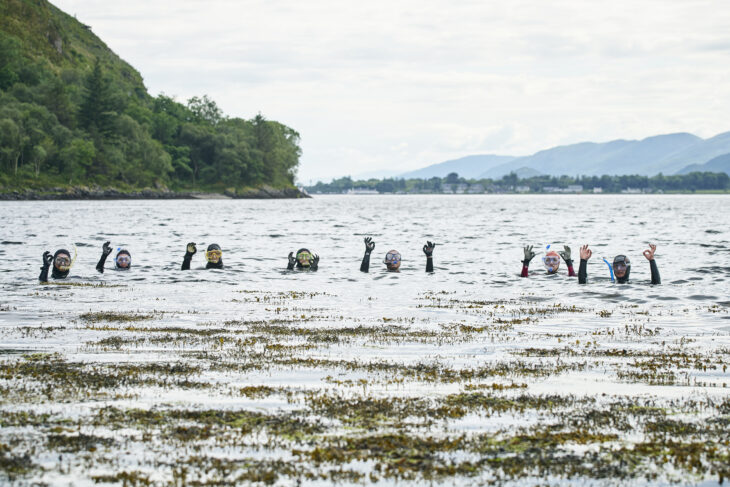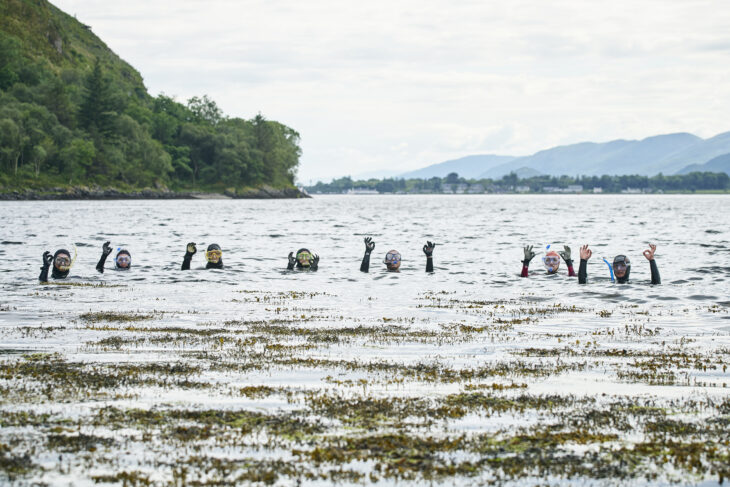 Exploring these areas could lead to close-up encounters with colourful wildlife including starfish, jellyfish, anemones and crabs, as well as seals and a range of fish.
The trail began as a final year project for a Marine and Coastal Tourism student based at West Highland College's School of Adventure Studies. It was launched on the shore of Loch Linnhe by students from the college and Kate Forbes, MSP for Skye, Lochaber and Badenoch.
Dr Sam Collin, Living Seas Manager, Scottish Wildlife Trust said: "Lochaber's dramatic landscapes, beautiful beaches and internationally recognised biodiversity make it one of the finest locations for marine and coastal tourism in Scotland.
"The Lochaber Snorkel Trail is a fantastic addition to the network of trails being developed as part of our Living Seas project and we are delighted to have worked closely with West Highland College UHI to create it. We want to help people realise the importance of protecting Scotland's seas – helping local people and visitors to safely discover marine wildlife through snorkelling is a fantastic way to achieve that."
Kate Forbes, MSP for Skye, Lochaber and Badenoch, said: "It was fantastic to have the chance to experience first-hand the amazing coastal environment we have in Lochaber. This initiative goes to show that you don't have to go to the Caribbean to see crystal clear waters and colourful marine life.
"I'm pleased to see West Highland College UHI and the Scottish Wildlife Trust collaborating on this new snorkel trail, a welcome initiative during Scotland's Year of Coasts and Waters. The work helps to highlight Lochaber's stunning coast and the amazing life beneath the waves. I'm sure the trail will enhance adventure tourism in Lochaber, and raise awareness of the importance of looking after our local marine life."
Annabel Lawrence, Lecturer in Marine and Coastal Tourism at West Highland College UHI said: "We're delighted to have worked with the Scottish Wildlife Trust to deliver this new trail, which is an opportunity for residents and visitors to Lochaber to experience our coastal and inshore waters and foster a connection to this environment. We hope that it will lead to a greater understanding, appreciation and protection of these fragile, threatened habitats and iconic species."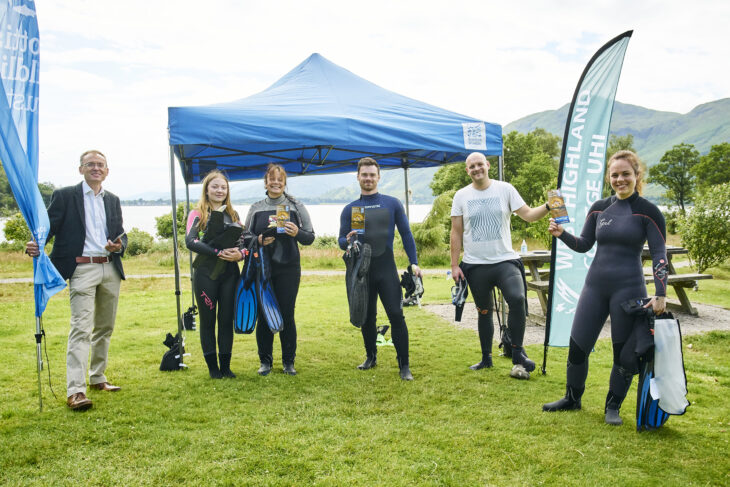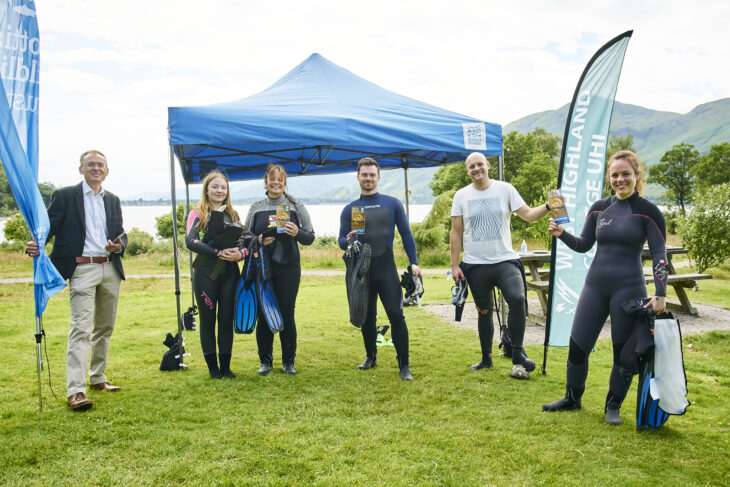 "The trail began as a final year project for one of our Marine and Coastal Tourism students. The project, developed with support from the Scottish Wildlife Trust and the Centre for Tourism Research (CRTR) at West Highland College, has resulted in this new trail around Lochaber, the training and qualification of 12 UHI students as British Sub Aqua Club (BSAC) Snorkel Instructors and also Dolphin Snorkeller training for primary school children in the area. The training and elements of the leaflet production were supported through the CAPITEN project, co-financed by the Atlantic Area INTERREG programme and Highlands and Islands Enterprise.
"Our Marine and Coastal Tourism degree delivered by the School of Adventure Studies was developed in response to Scotland's initial marine tourism strategy 'Awakening the Giant' which presented the opportunity to create a world class marine tourism sector in Scotland, the relationship between UHI and the marine tourism sector has now developed into a partnership with the 2020 'Giant Strides' marine tourism strategy ensuring that 'Marine tourism is sustainable and meets changing consumer, workforce, community and environmental needs and expectations, whilst growing the industry's overall economic contribution to over £500 million by 2025' (Giant Strides, 2020:3).
"The degree is in its sixth year of delivery and has had many positive outcomes. Graduates from the course are involved in sea kayaking, sailing, leisure cruises, business start-ups and community marine projects."
Click here to find out more about the Scottish Wildlife Trust snorkel trails.
12 Top Places to Snorkel with Dolphins
Not many experiences can match the sheer joy and fun of swimming with dolphins. These intelligent and playful creatures have captivated humans for generations with their acrobatics and friendly natures. There are numerous places where you can snorkel with dolphins and see what all the fuss is about. Whether you are looking for somewhere close to home for the whole family or an exotic getaway with idyllic snorkeling spots, we've got you covered in our round-up of the top places to snorkel with dolphins.
Egypt
Egypt is known for its aquarium-like house reefs just a few steps from the shore, world-famous wrecks and exciting offshore reef dives. For the best opportunity to snorkel with dolphins, head to the Southern Red Sea.
Samadai (Dolphin House) reef at Marsa Alam is a sheltered horseshoe-shaped reef famous for its population of spinner dolphins. It is also close to the best snorkeling and diving in Marsa Alam.
Species: Spinner dolphins, bottlenose and Risso's.
---
The Bahamas
With numerous corals cays to choose from, you are spoilt for choice when visiting the Bahamas. There are plenty of places where you can encounter dolphins but the best places to spot them are Bimini and Grand Bahama.  There are several resident pods present year-round there.
Species: Atlantic spotted, spinner, bottlenose and striped.
---
The Azores
The Azores is one of the world's leading whale and dolphin watching destinations. In the bright blue waters of these volcanic islands, you can swim with up to 5 different dolphin species, plus blue sharks, mantas and mobula rays.
Species: Atlantic spotted, bottlenose, striped, Risso's and common.
---
Madeira
Along with the Azores, diving in Madeira is one of Portugal's top attractions. Known as the 'Pearl of the Atlantic', this subtropical archipelago has thriving reefs, deep wrecks, and is visited by 26 species of whales and dolphins.
You can swim with playful schools of wild dolphins year-round at Madeira. With some of the cleanest and clearest waters in the world, it is an unforgettable experience.
Species: Common, spotted.
---
New Zealand
New Zealand has no less than 4 destinations where you can swim with dolphins and hosts 9 different dolphin species.
The popular Bay of Plenty offers dolphin swim safaris, and the rich waters there also host seals, whales, sunfish and sea turtles.  Go swimming with up to five different dolphin species in the forest-draped Marlborough Sounds or swim with dusky dolphins in the shadow of  Kaikoura's rugged mountains.
For the ultimate dolphin experience, go swimming with Hector's dolphins at the pretty coastal town Akaroa. These adorable dolphins are the smallest in the world.
Species: Common, dusky, bottlenose, Hector's.
---
Australia
Australia offers accessible swimming with dolphins on the doorsteps of its best-known cities.
Port Stephens-Great Lakes Marine Park, just 2.5 hours' drive north of Sydney, offers dolphin swimming tours with common and bottlenose dolphins. Port Phillip Bay near Melbourne hosts resident bottlenose dolphins that often approach people in the water.
You can hang out with playful bottlenose and common dolphins at Glenelg near Adelaide, or head to Perth in Western Australia to swim with the local dolphins of Shoalwater Islands Marine Park.
Species: Common, bottlenose.
---
Hawaii
Hawaii hosts an impressive array of marine life, with 25 per cent of its species found nowhere else on Earth. Its underwater treasures and lava landscapes draw people to Hawaii scuba diving every year.
Head to Oahu or Big Island to find dolphins along the coastline or join a dolphin swimming tour. Make sure you book with a Dolphin SMART operator and leave plenty of time to explore Oahu's many top places to spot Hawaiian green sea turtles as well.
Species: Spinner, bottlenose, spotted.
---
Fiji
Fiji's rainbow-hued reefs and 300 or so idyllic islands are perfect for snorkeling adventures in search of dolphins.
Both spinner and bottlenose dolphins are found in Fiji's warm waters and some resorts have resident dolphin pods just offshore. There are various tours you can join to swim with the dolphins, so just ask at your local Fiji dive center to find out more.
Species: Bottlenose, spinner.
---
The Galapagos Islands
The Galapagos Islands sit at the top of many divers wish lists and understandably so. These wild islands offer unparalleled wildlife watching opportunities above and below water.
Diving with sharks, rays, penguins, marine iguanas, sea lions and countless fish is the norm at this UNESCO World Heritage site. Dolphins are also often seen in the water, with both bottlenose and common dolphins resident all year. Fernandina Island is one of the top places to spot them.
Species: Bottlenose, common.
---
French Polynesia
French Polynesia's rich marine ecosystems, which include a UNESCO Biosphere Reserve and the second-largest atoll in the world, are teeming with marine life, including dolphins.
From November to mid-July, large pods of spinner dolphins are found along Moorea Island's coastline. Join a boat tour to swim with the dolphins then head to Moorea Lagoon to meet the resident stingrays and reef sharks this picture-perfect location is known for.
Species: Spinner.
---
South Africa
To witness one of the world's true spectacles, visit South Africa during the sardine run. Billions of sardines migrate along the coast of South Africa every year, attracting countless diving sea birds, dolphins, whales and sharks.
Drop into the water amongst the sardines and you can watch the pelagic action unfold, with hunting dolphins working together to make the most of this awe-inspiring feast.
Species: Bottlenose, common.
---
Brazil
Fernando de Noronha in Brazil is a diving mecca that hosts some of Brazil's best beaches and snorkeling opportunities.
Sea turtles, reef sharks, rays and dolphins gather in the clear, warm waters around this archipelago of 21 volcanic islands. At the aptly-named Dolphin Bay, hundreds of spinner dolphins gather daily to feed on the fish and socialize. Watch these acrobatic dolphins from the shoreline or join a tour to swim with them.
Species: Spinner.
---
Kathryn Curzon, a shark conservationist and dive travel writer for Scuba Schools International (SSI), wrote this article.
10 Great Coral Reef Destinations for Every Snorkeler
There is nothing like drifting over a coral reef, watching vibrant fish life and thriving corals as the sun shines overhead. If you're lucky, you might spot a passing sea turtle, manta ray or even a whale shark whilst you explore. Reef snorkeling is simply one of the best experiences and you don't need to travel far to try it.
Whether you're looking for an affordable destination close to home, a family-friendly trip, an idyllic island getaway, or a touch of luxury, we've got you covered. Read on for our pick of 10 great coral reef destinations for every snorkeler to enjoy.
Family-friendly coral reef destinations
Easily accessible.
Year-round sunshine.
Plenty of facilities and entertainment for families.
Egypt
Egypt is a classic family destination that offers clear blue waters teeming with life. There are dozens of snorkeling spots just off Egypt's beaches, especially at bustling Sharm El Sheikh. Snorkeling there is like swimming in an aquarium, and it is a perfect for adults and kids of all ages.
For a more laid-back vibe, head south to Marsa Alam. This small resort town is renowned for its sandy beaches and coral reefs. That said, the real highlight there is snorkeling with large families of spinner dolphins, dugongs and sea turtles.
Australia
Australia might be further afield than Egypt for many people, but the big marine life and year-round sunshine make it hard to beat.
Take a trip to Cairns and you can visit two UNESCO World Heritage sites at one place: the enormous Great Barrier Reef and the ancient Daintree Rainforest. As well as plenty of smaller reef life, the Great Barrier Reef hosts reef sharks galore, plus dwarf minke whales and humpback whales in winter.
Love whale sharks? Head west and to snorkel with these spotty giants at Ningaloo Reef and explore the remarkable UNESCO-listed Ningaloo Coast.
Luxurious coral reef destinations
Romantic settings.
Luxurious accommodation options.
Combine world-class reef snorkeling and relaxation.
Raja Ampat, Indonesia
Sitting in the heart of the Coral Triangle, Raja Ampat has some of the highest marine biodiversity in the world. There are numerous manta rays, whale sharks and pastel-hued soft corals, putting diving in Raja Ampat at the top of many wish lists. These stunning islands are best enjoyed by hopping on a Raja Ampat cruise.
Wakatobi, Indonesia
If you want to indulge in a luxury getaway and explore coral reefs that few people visit, go to Wakatobi. There you will find palm-fringed islands washed by azure waters with almost no other people in sight.
Underwater, Wakatobi is known for having huge sponges and corals that are busy with prized Coral Triangle critters. There are healthy seagrass beds with plenty of juvenile green sea turtles and you can spot Hawksbill turtles on the reefs.
The Maldives
The Maldives is what luxury getaways are all about. Picture-perfect islands, warm waters, soft white sands and fantastic food. All with a generous helping of excellent snorkeling just a few paces off the shore.
Whether you hop on a day-boat to the outer reefs or explore around your resort's house reef, snorkeling and diving in the Maldives are hard to beat. You can swim with whale sharks, hang out with hundreds of mantas at Hanifaru Bay, or simply enjoy a cocktail whilst the sun goes down.
Idyllic island destinations
Perfect for island-hopping adventures.
Tropical destinations far from daily life.
Easy snorkeling at some of the world's best reefs.
Fiji
Fiji is known as the 'soft coral capital of the world' and doesn't disappoint. The reefs at this welcoming destination are swathed in vivid soft corals in just about every color you can imagine.
As well as eye-popping reefs, Fiji has fantastic seasonal marine life, including plenty of whales during winter and large pelagic fish. Go island hopping to swim with mantas or become a certified diver to join Fiji's famous bull shark dive. The choice is entirely yours.
The Solomon Islands
 The Solomon Islands offer some of the finest snorkeling in the South Pacific, if not the world. Whilst there are numerous destinations to choose from at these volcanic islands, don't miss Marovo Lagoon.
It is the world's largest saltwater lagoon and is dotted with hundreds of jungle-clad islands, many of which are uninhabited. The waters are calm, and the reefs are thriving; with huge sea fans, countless reef fish, shallow shipwrecks and stunning coral gardens
Coral reefs off the beaten path
Great for adventurous travelers and experienced snorkelers.
Go the distance and enjoy the rewards.
Few other tourists in sight.
Sipadan Island, Borneo
Sipadan Island was formed by living corals growing on top of an extinct volcano and offers fantastic snorkeling thanks to the deep-water currents that bring up nutrients to the reef.
There you will find mesmerizing underwater landscapes with around 600 species of coral and 1200 fish species. There are huge schools of barracuda, plus parrotfish, reef sharks, tiny critters tucked among the corals, and abundant sea turtles.
Papua New Guinea
Papua New Guinea (PNG) is well off the tourist trail. But if you don't mind the travel time, you can snorkel among untouched reefs and immerse in a tribal culture like no other.
With over 600 islands, there are numerous destinations to choose from in PNG. Kimbe Bay was voted as one of the world's most beautiful reefs by National Geographic. Take a trip to Tufi and you can snorkel in the shadow of dramatic fjords and experience PNG's incredible marine diversity.
The Marshall Islands
With around 5000 visitors a year, the Marshall Islands are one of the world's least-visited countries. Don't expect to go there and find endless restaurants and resorts. Instead, you will find friendly locals and vibrant reefs that few people ever get to see.
Even better, the Marshall Islands has been home to the world's largest shark sanctuary since 2011 and this island nation continues to be committed to ocean conservation. Go there before the rest of the world finds out.
---
Kathryn Curzon, a shark conservationist and dive travel writer for Scuba Schools International (SSI), wrote this article.